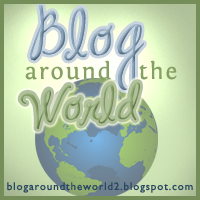 Holy lots of visitors to the blog, Batman! I can't believe how many people stopped by yesterday on my
Blog Around the World
day. Thank you so much to Debbie, all BAtW folks, Devoted Readers, and new Wanderers who popped in. To keep my ego in check, I will be visiting all of your blogs over the next few days to say hi and spread the comment-love.
Since the moment I found out I was going to be the Blog of the Day I have been bouncing around the flat with excitement. I'm going to be on a blog-high for the next week thanks to yesterday.
Thanks to everyone and I hope you all keep reading!