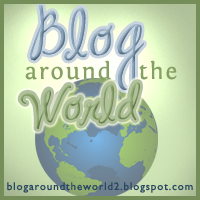 I would like to welcome everyone from
BAtW
. I can't tell you how lucky I felt to be chosen to help highlight my adopted home of
Egypt
.
Before I tell you about
Egypt
, I thought I would tell you a little about me. I am a professional
trailing spouse
, which is basically a nice way of saying that I'm an
expat
wife,
which means that I move every few years as the whims of my husband's job take us around the globe.
Although I left my home country of Canada over ten years ago, I only consider myself to have been an expatriate for slightly over three years. That was when my husband and I left the US to live in New Delhi,
India
to work with The Group. A year later, we left India behind for Nairobi,
Kenya
and The Organization where my husband "counted sheep" for a living.
A few months ago, we bid
kwaheri
to our East African home and found ourselves in North Africa - Cairo, Egypt to be specific - where Hubby now works for the Institution.
If you think that sounds like a lot of moving, meeting new friends, and saying good-bye to old ones, you'd be right. Luckily, while I am not enamored of change, I do enjoy traveling and learning about new people and places. With my house once more set to order, I have started Arabic lessons, joined associations, looked into volunteering positions, and am finally ready to start work on the Egyptian phase of my life.
Living in Egypt is an amazing adventure. Some people assume that because I live in an Islamic society, I am required to wear a
hijab
or
that it means that I'm going to convert to Islam. While I do dress more conservatively here to be respectful (no shorts or tank tops), I don't cover my hair unless I am playing tourist by visiting one of the many beautiful mosques to be found in Cairo. There is a great tolerance and respect for other cultures here that is reflected in the incredibly open and friendly attitudes of most Egyptians I have met. Welcome to my new home.
During today's layover, I thought I would take you back through time to a few places you can see on day trips from Cairo.
When most people think about the Arab Republic of Egypt, one picture comes to mind: the pyramids. The three famous Giza pyramids are Pyramid of Khufu (also known as the Great Pyramid or the Pyramid of Cheops), the deceptively smaller Pyramid of Khafre (or Chephren), and the "smaller" Pyramid of Menkaure (or Mykerinos). Just to the east, as if guarding its neighbours, is the Sphinx.
When you see a picture of the three pyramids together, Cheops is the one with its top missing. Many people make the mistake of thinking that Khafre, with its still intact cap, is bigger, when in fact Khafre had it built on higher ground and at a steeper pitch than his father's. If nothing else, this proves that difficult father-son relationships are nothing new.
Most people still think of the pyramids as a quixotic desert destination replete with camels and palm trees. The truth is somewhat less romantic. The pyramids, you see, are literally on the edge of Cairo. I will never forget the first moment I saw them rising up from behind a series of residential buildings as we drove along Pyramids road. Nothing kills the ambiance of false expectations quite like a grey haze of pollution and the harsh honking of horns in the distance.
(Conspiracy theorists may now discuss whom they believe
really
built the pyramids. Was it aliens, time travelers, time traveling aliens or something else entirely? Personally, I blame a guy named Bob, but that's a story for a different time.)
Continuing our journey backwards through time, I highly recommend a visit to
Saqqara
, which is just a short drive from Cairo. The ancient step pyramid of King Djoser was designed by the famous architect and engineer Imohtep.
Sadly, when I saw this great edifice for the first time, I was in the midst of dying of heat stroke. Note to future travelers: water, a wide brimmed hat, and portable snacks are not suggestions – they're compulsory. Trust me when I say that you don't want to have your
"Adam needs a cookie"
moment while surrounded by the memories of people who moved around thousand pound stones for a living.
My favourite thing to see at Saqqara has nothing to do with pyramids and is conveniently shady for those 43°C moments. I happen to be a bit of a book-oholic and am completely capable of spending endless hours in galleries and museums looking at incredible (and not so incredible) art. Which is why, for me, the highlight of these tombs is on the walls. Mereruka's mastaba (tomb) is home to some incredible hieroglyphics and reliefs.
For our final trip in the time machine, we will go even further back into history to Wadi Al-Hitan or the Valley of the Whales. About 150km from Cairo, you will find the home of ancient fossilized whales that demonstrate
"the emergence of the whale as an ocean-going mammal from a previous life as a land-based animal."
Or, in laymen's terms, it demonstrates whale evolution. I will be visiting this UNESCO World Heritage Site in a few weeks time as it is a must see for fossil lovers and science geeks alike. (Not that I'm a geek or anything.)
(Since I have not yet visited myself, these photos of the Valley of the Whales are courtesy of the very talented
Tiffany
of
Americans in Cairo
.)
I hope I haven't tired out all you tourists too much. We haven't even visited Al-Qarafa (the City of the Dead), visited the Matarayyiah
Obelisk
of On, sailed a felucca on the Nile, or wandered through Islamic Cairo. Of course, when all that history gets to be too much, you are always more than welcome to go diving at Sharm el-Sheikh before heading back into the desert to see Luxor, Alexandria, and Rosetta.
I haven't lived in Cairo very long and am still learning about its culture, language, and people but I can already tell that I will have no problem calling this place home. Egypt is a country where history literally comes alive around you. I hope,
Insh'allah
, you'll visit again so we can continue our tour through time.